Pacing in a story is crucial. When the tension is high, the writing should reflect that tension. The reader should feel like they're driving a racecar across the pages. But you can't expect your reader to read at a mad dash gallop all the time. Occasionally you need to slow, let the readers catch their breath before lulling them into a trot again. But how do you know if you have the right pacing?
I read about a pacing tool in the book, "The Writer's Little Helper" by James V. Smith Jr. It provided a method to "test" your pacing. My analytical mind grabbed onto it like a kid given an ice cream cone. I love stuff like this. And I wanted to test it out. Pseudo scientifically.
His basic idea is that you divide the beginning of your story into the first 22 scenes (I cheated and used between 18 and 20 scenes for this exercise as these sections are my "opening" in my novel). This is a good exercise on its own because it makes you think about scenes, instead of chapters. Your book may not be a screenplay, but thinking of your first 22 scenes will help focus your opening chapters.
Then you calculate the pace for each scene and plot it on a graph. I used James V. Smith Jr.'s method to calculate a "pace" score out of a possible 100. The higher the number, the faster the pace. I did this and came up with a diagram for the beginning sequence of my story. Ack! It wasn't pretty.
The author suggests as a general rule, you should avoid scores lower than "64" … and I had 2 scenes that sank below that line. Yikes. I had no 'warp" speed (86 or higher) and even worse, entire scenes dropped to below the "downshift" gear. The story stalled. Horns honked.
So I revised. I focused on my sentence structure and length, word choices, and attempted to eliminate the terrible blight of the passive tense. After restructuring, my graph changed to look like this: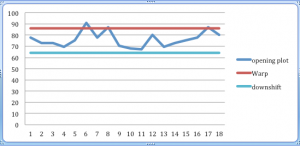 Improvement. It is not a flat line and at least it no longer dips below the "64" line. The exercise helped me focus on one particular aspect of my writing.
Two years later, I have re-organized and structured my opening 20 scenes. I stopped counting edits long ago. I decided to re-visit the pacing tool. What would my new 20 scenes look like?
I copied my scenes into a new document and started the calculating process. My hands sweated. Would it look better than the graph above? Worse? Or basically the same? Here's the new graph: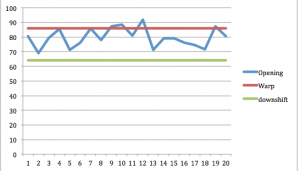 Wow! This new profile is better. I start strong, teasing my reader, then pausing, and building steadily towards scene 12 (which nicely coincides with a high tension part of this opening and about half way through these first scenes). Then I slow it down before building again. But this also tells me that I might want to examine scenes 14 to 18 since I lose momentum in these sections. What is happening in those scenes and do I want it to be at a stroll?
Overall, my testing complete, I recommend James V. Smith Jr.'s book and his pacing tool. It provides a method to visually check the pacing of your writing, like having a speedometer on your novel.
The following two tabs change content below.
Seana Moorhead
Seana Moorhead is an aspiring writer and is working on completing her first fantasy novel. She moved to Grey County in 2002, having a passion for outdoor adventures, including kayaking and wilderness camping. Suffering from a book addiction, she will read almost anything that will grab her attention, lead her into another world or teach her something new. Seana lives in a bush lot near Owen Sound, Ontario with her partner and three dogs.
Latest posts by Seana Moorhead (see all)