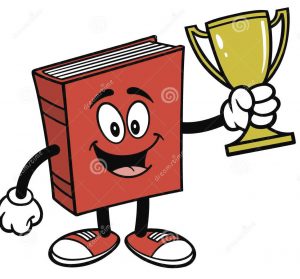 It's the season for spectator sports, and I don't mean baseball or playoff hockey. I'm talking about the book awards season, which in my opinion, qualifies as a spectator sport. It's almost always entertaining, there's usually an underdog to cheer for, a favourite, a healthy amount of suspense and hoopla, and sometimes even intrigue and dirty pool.
Authors don't write for awards (or at least they shouldn't) and readers don't (usually) read only award-winning books. And yet those of us who love to read and write can't help but get caught up in the drama of who's been nominated and who ends up the winner.
I'm a bit jaded when it comes to awards, but then, as a former long-time journalist, I lean that way about most things. I've come across many books and short stories that were bestowed with an esteemed award, only to come away after reading it thinking, huh? I remember reading a Giller winner once that I gave up on half way through because I couldn't tell if the main character/narrator was alive or some kind of ghost.
I've even come to believe that some book judges, like art critics, end up choosing the weirdest most obscure piece because it's a way to prove they're so much smarter than the rest of us, that they "get" what the writer/artist was trying to say while the rest of us mere mortals don't.
On the flip side of that, I've read award winning books and short stories that seemed so pedantic and full of clichéd characters and plots. So what gives? Do judges just throw them all into one of those bingo ball machines and pick out the lucky (arbitrary) winner? Sometimes it seems that way. And yet other times it seems exactly right that said book or story won, that the judges were spot on.
It's hard to get a handle on the judging process for book awards, because it's not the most transparent thing in the world. Sometimes judges are highly qualified (authors themselves or English literature/creative writing professors or editors/agents) and sometimes they're little more than well meaning fangirls/fanboys whose reading repertoire is rather limited. Sometimes judging panels conspire to choose the winner for particular reasons and sometimes they go to extraordinary lengths to be fair and impartial.
Horror stories abound, or at least, critics abound. There've been accusations that only the bestselling/biggest names win award after award because everybody knows who they are and they make millions for the industry. Alternatively, some have argued that the bestsellers are punished and that lesser known books/authors are rewarded as a way to punch up sales and attention. I've heard (on good authority) that some judges don't even read all the books they're supposed to. Then there's the theory that the competent authors who produce good quality books every single time get passed over for the one book that appears completely out of the blue (think one hit wonder) and enjoys the most "buzz".
I've been an awards finalist myself several times over the past decade and even won a couple, and yet the whole process is as mysterious to me as it is to the next reader/author. Sure it's fun to be a finalist, and sure it's fun to win. And maybe it even manages to sell a few dozen or a few hundred more copies of your books.
But I say this to my fellow writers: If you've never won an award, don't fret. Awards (or their absence) have little to do with how well you do your craft, and they have nothing to do with readers' satisfaction. I can't even begin to describe how much more satisfying it is to have readers tell me my book brought them to tears or made them feel better or even changed their lives in some way, than it is to have some little trophy or piece of paper hanging around my office.
And I say this to readers: Don't judge a book by its awards (or lack thereof). Read what you enjoy, and if you like it, tell the author or rate the book in Goodreads or Amazon.
In the meantime, please do pay attention to awards, if for no other reason than it's good for the book publishing industry. And then go buy one of those nominated books or winners (even if you don't agree with it), because authors and publishers need all the help they can get.
The following two tabs change content below.
Tracey Richardson has had several novels published by Bella Books, two of which were Lambda Literary Awards finalists. Semi-retired now from a long-time journalism career, Tracey spends as much time writing and reading as her two demanding chocolate Labrador retrievers will allow. She also enjoys playing hockey, golf, and occasionally teaches fiction writing. History, politics and time travel are among her more exotic reading material. www.traceyrichardson.net; Twitter @trich7117.
Latest posts by Tracey Richardson (see all)