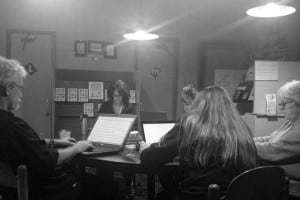 Someone once wrote "writing is a lonely business".
We all know the familiar cliché of the author sitting at his or her desk, coffee cups scattered about the work surface, dirty dishes with half-eaten food lying about, and wadded pieces of paper littering the floor and overflowing out of waste bins (ok, maybe only old people like me know that cliché).
The thing is, after all the lectures, grammar rules, tips and recommendations for better play/ novel/short story/ screen play/ writing, – well, the fact is, you're the only one who can write your work. You. Sitting there, with your note pad, your tablet, your laptop, your desktop.