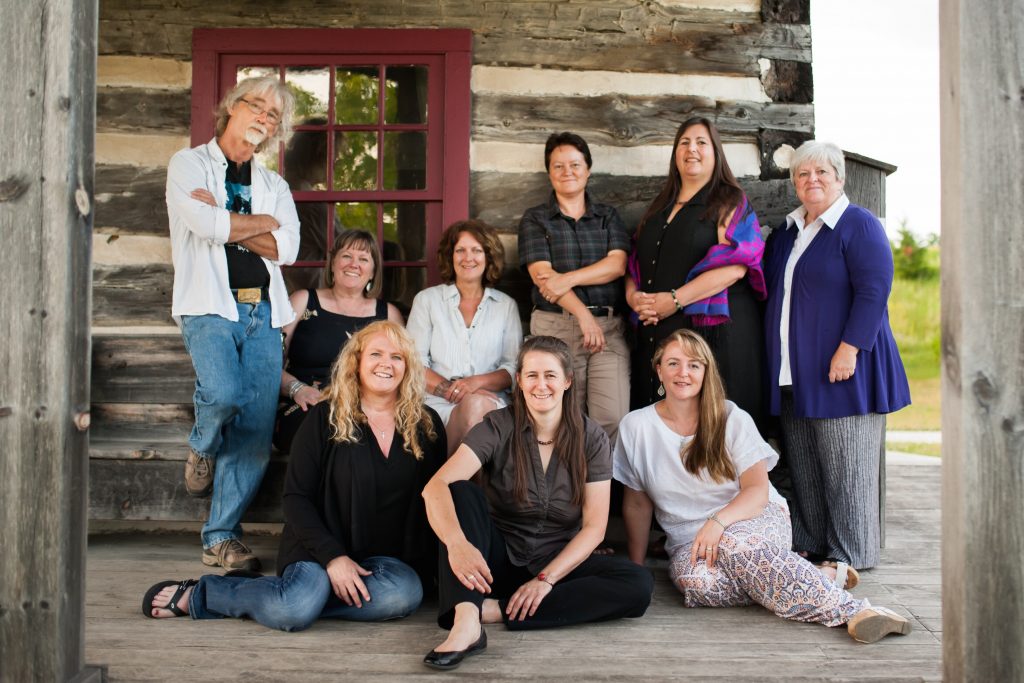 The Ascribe Writers are pleased to announce the publication of their first collection of writing by our members entitled Beneath the Surface: A Collection of Grey-Bruce Stories.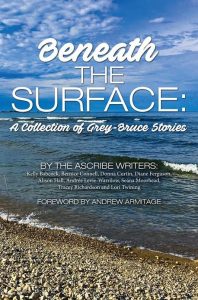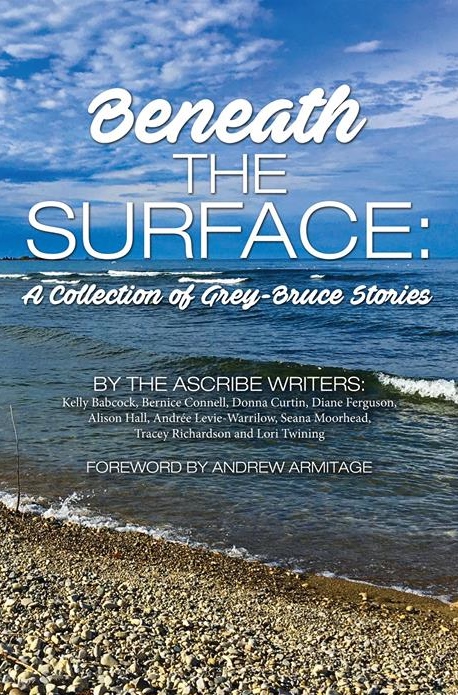 Within the pages of this anthology, you will find short stories with subject matters that will appeal to almost everyone: history, romance, fantasy, science fiction, animals, relationships, parenthood, holiday celebrations, antique cars, aging, murder, gardening, werewolves, dragons, health, religion and more.
This book features 14 stories from nine local contributors; all stories varying in different writing styles, genres and topics, as well as several time periods (historical, contemporary and futuristic). In addition to the short stories, the collection includes a foreward by Andrew Armitage, a local author, historian and former librarian who believes in preserving stories about the Grey-Bruce area that would be lost to us, if we didn't write them down and share with others.
Here is a sneak peek at what is inside this new collection of stories:
Foreward by Andrew Armitage
Bolt and Brand by Kelly Babcock
Phoenician Yellow by Tracey Richardson
Sex on the Beach by Lori Twining
A Little Psycho by Donna Curtin
Adam in the Garden by Alison Hall
The Forever File by Bernice Connell
Taking Flight by Tracey Richardson
The Debt by Andrée Levie-Warrilow
Unwanted Reminiscing by Lori Twining
Scotch Truth by Bernice Connell
Rocky Terrain by Diane Ferguson
Nova's Procession by Donna Curtin
Mothers by Andrée Levie-Warrilow
Flying With Dragons by Seana Moorhead
An official book launch will be held at The Ginger Press Bookstore and Café (848 Second Avenue East, Owen Sound) on Friday, December 2nd, 2016 from 7:00 pm to 9:00 pm. Everyone is encouraged to drop by and meet the authors, listen to them talk or read from their work and ask questions about what they are working on next. Books will be available to purchase at the launch.
If you cannot make it out to the initial book launch, you can stop by The Ginger Press Bookstore and Cafe for the 31st Annual Author's Open House on Saturday, December 10th from 11:00 am to 2:00 pm to get autographed copies and cookies. This event will feature many local authors, including:
Ascribe Writers (Beneath the Surface: A Collection of Grey-Bruce Stories)
George Auer (Soldiers of the Soil: Grey County Goes to War 1914 – 1918)
Stephen Hogbin (The Extraordinary Tree Project)
Jean Hutchinson (Country Midwife: The Story of Elizabeth Harvey Ward Nuhn)
Larry Jensen & Rob Rolfe (Mudtown Songs & Poetry)
Bonita Johnson de Matteis (Twas the Night Before Christmas, set in Owen Sound)
Barry More (A Thing of Beauty: The Story of the Moreland Place)
Rachel Oliver & Mary Soloman (Caregiving: Practical Advice From the Trenches)
Richard Thomas (Saints & Sinners: The Story of Prohibition in Owen Sound)
Ken Thornburn (The Grey-Bruce Colouring Books)
If you can't make either event, but would still like to support the contributors of this anthology, you can either contact the individual author, or you can order books via The Ginger Press Bookstore and Café, (519) 376-4233, www.gingerpress.com.
The following two tabs change content below.
Lori Twining writes both fiction and nonfiction, with her stories winning awards in literary competition and appearing in several anthologies. She's an active member of many writing groups: International Thriller Writers, Crime Writers of Canada, Romance Writers of America, Toronto Romance Writers, Writers' Community of Simcoe County and Ascribe Writers. She's a lover of books, sports and bird watching, and a hater of slithering reptiles and beady-eyed rodents. www.lvtwriter.com; Twitter @Lori_Twining.
Latest posts by Lori Twining (see all)