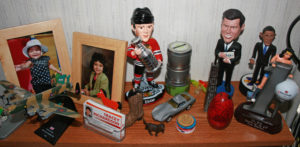 Writers spend a lot of time talking about how much they love to write. And so they should! Writing is a tremendously gratifying, passionate pursuit that feeds our souls.
But writing is also hard. And lonely. It's sometimes emotional and often angst ridden. But let's not dwell on the more challenging aspects of our calling.
For me, it's important to keep the writing process light wherever possible. And to remember not take myself too seriously. It's important to balance the difficult, tense, and even scary parts of writing against things that are frivolous, cheerful, fun. Things that make me smile. Things that make me happy to spend time in my home office.
So I surround myself with tactile things I love and things that give me joy – outside of writing, that is. There's a guitar. There's my wall of autographed hockey pucks (I'm a hockey addict!), bookcases stuffed with so many books, I'm afraid the shelves will collapse. There's my collection of typewriters (I have typewriters from 1924, 1938 and 1961) to remind me of how hard the writing process truly was decades ago (for when I get feeling sorry for myself!).
And then there's my little shelf right above my desk. My stash or kitsch includes a Stanley Cup winning Chicago Blackhawks bobblehead (like I said, I'm a hockey nut), a JFK bobblehead (I have a thing for the Kennedys), a little Obama figurine I picked up in New York City, a diecast 1978 Corvette (I owned the real thing once), my hole-in-one golf trophy I earned last summer, crowned by a Wonder Woman figurine (Wonder Woman is the coolest superhero!), mementoes from trips to Nashville and Las Vegas, and a diecast of Second World War Lancaster bomber (because of a short story I've written).
There's also my IPod docking station, because I sometimes listen to music to help me get into the mood of the story I'm writing.
Keep the process light. Surround yourself with things that inspire you and make you smile. A little whimsy in your writing space will release the inner child in you. And the inner child is where your creativity resides!
What do you do to keep the writing process light and fun?
The following two tabs change content below.
Tracey Richardson has had several novels published by Bella Books, two of which were Lambda Literary Awards finalists. Semi-retired now from a long-time journalism career, Tracey spends as much time writing and reading as her two demanding chocolate Labrador retrievers will allow. She also enjoys playing hockey, golf, and occasionally teaches fiction writing. History, politics and time travel are among her more exotic reading material. www.traceyrichardson.net; Twitter @trich7117.
Latest posts by Tracey Richardson (see all)