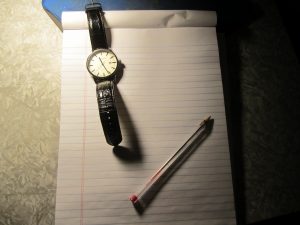 It began innocuously enough.
The setting aside of writing time for all the demands of the season.I was not to know the full repercussions of this decision until weeks later.
Way back in December, I found myself immersed in the
usual frenzied activities (I bet you had them too): the shopping, cooking, wrapping, visiting, hosting, tree-choosing, house and tree decorating, etc., etc. Someone I knew was moving. I helped with that. Someone else was very ill, I spent time with her. There were birthdays to celebrate. The days flew by. I didn't even notice I hadn't jotted a word.
Could I fit writing in again?
January slid in: resuming the old work schedule, starting new projects, the month sailed out again while I carried on with the usual time-eaters. No time for writing. I was too busy!
But then February arrived. I looked at the Ascribe blog schedule and realized there had been no work what so ever toward my creative fiction writing. For two whole months. Two months I will never get back. Yet my calendar was full. And now where could I even think to fit writing in again? Could I fit writing in again? How could I find the time?
After I stopped hyperventilating, I knew I had to regroup. Writing was important to me, is important to me, and I suspect, always will be important to me. But I had to make it a priority again. Because like a muscle that atrophies without use, after two months of not working on my novel, I had lost the flow of my story, my thoughts, my creativity.
What could I do to regain my writing mojo? Well, follow the good advice of my fellow bloggers, of course. Just start writing. Sometimes I can be oblivious to the obvious.
Baby Steps
I made myself a promise to commit to baby steps: write three pages each day first thing in the morning before getting out of bed – without fail. No stopping to read back over or edit; just putting words to paper. The premise was not new; I just never thought I'd have to resort to it myself as a writer. I'm embarrassed to admit I'd taken my ease with writing for granted.
It took an entire week, but eventually it worked. The flow and creativity returned. And I found – no, made the time to have time to write again. I'm back on track; I just hope I don't forget this lesson when Life gets "too busy" again.
The following two tabs change content below.
Andrée Levie-Warrilow
Andrée loves the English language. It all began one dark and stormy night at the university student newspaper office: she went in to volunteer as a proof-reader, and ended up a book and theatrical reviewer. She has ranged between being a poetry judge and working full time as an editor for Insight on Collectables, writing articles on antiques and collectables and interviewing featured artists. She has derived great joy in passing on her love of the language as an ESL tutor, and is a published poet and freelance journalist. Last, but not least, Andrée enjoys the meetings with her friends and fellow writers of Ascribe, where she gets information - and inspiration - on the arcane mysteries of writing novels. She's working on her second one now.
Latest posts by Andrée Levie-Warrilow (see all)