I've been transported back in time to 1938!
Okay, not really, since I haven't (yet) mastered time travel (although the subject does very much interest me!). But my "new" purchase is as close to 78 years ago as I'm going to get.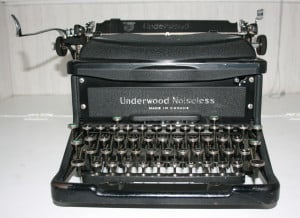 I recently picked up a 1938 Underwood "Noiseless" manual typewriter in excellent condition. It weighs a ton and is quite an engineering feat when you examine it closely. I don't know why, as a journalist for more than two decades and a published author, I didn't think to grab one of these babies sooner for my home office. But better late than never!
I used typewriters as a kid, but by the time I began my journalism career in the late 1980s, the typewriter era (thankfully!) was over. Because as much as these old machines are lovable and almost indestructible, the computer has made the life of a writer so much easier. And yet, a hundred years ago, the exact same thing could (and was) said about the typewriter.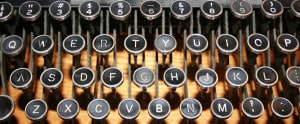 Typewriters didn't just revolutionalize writing. A Facebook friend pointed out that the typewriter was also emancipating for women because it opened up jobs to women. And yes, they were jobs that were underpaid and undervalued, but a step up from the underpaid and undervalued more menial jobs like working as maids, seamstresses and laundry workers in sweat shops. Typewriters got women out of the house and on the payroll under decent working conditions. That alone makes the typewriter worthy of celebration.
All the great novels written on typewriters … think of authors like Hemingway, F. Scott Fitzgerald, Flannery O'Connor, Patricia Highsmith … are also cause for celebration. Makes you think how spoiled and fortunate we are now with cut and paste functions, not to mention Scrivener and the internet.
While I don't plan to desert my Mac for my "new" typewriter, it sits in my home office as inspiration. And as homage to writers who toiled decades before me. I've even begun thinking along the lines of using it as subject matter or recurring symbol in a future novel.
If you have a few minutes, check out the following website's list of famous people and the typewriters they used:
http://site.xavier.edu/polt/typewriters/typers.html
And if you really want to amuse yourself, check out the app called iTyper. It audibly turns your computer keyboard into a typewriter by making the keys click and even rings a bell when you hit the return key. Good for a hoot but annoying to use all the time … exactly my sentiment, I suspect, if I tried using my old typewriter too often!
The following two tabs change content below.
Tracey Richardson has had several novels published by Bella Books, two of which were Lambda Literary Awards finalists. Semi-retired now from a long-time journalism career, Tracey spends as much time writing and reading as her two demanding chocolate Labrador retrievers will allow. She also enjoys playing hockey, golf, and occasionally teaches fiction writing. History, politics and time travel are among her more exotic reading material. www.traceyrichardson.net; Twitter @trich7117.
Latest posts by Tracey Richardson (see all)