For most of us writers, doing the thing we love most entails planting our butt in a chair for hours on end. Not only are we physically inert, but our minds wander too. Writing is tedious work; boredom can easily set in. That's when many of us feel the need for a little assistance to keep us focused and fueled.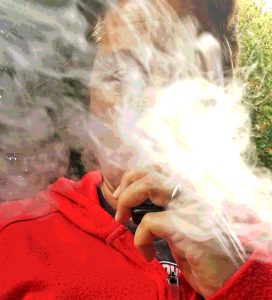 Coffee, tea or…
By "assistance" what I really mean is a pleasant little diversion to keep us from going completely bonkers while we're writing our next opus. And often, this diversion is a guilty pleasure, such as chocolate (one of God's wonders for sure!), coffee (again, nectar from the Gods), tea, candy, or smoking for famous authors such as Patricia Highsmith, Oscar Wilde and George Orwell.
Healthy, schmealthy!
Of course, it would be much healthier to have a treadmill writing desk, or to get up and go for a good walk every thirty minutes or so to keep our boredom at bay. Reaching for baby carrots or sliced celery instead of M&Ms would be healthier too. But writers have never been mistaken for a healthy bunch.
For me it's always been tea or coffee along with some kind of baked confection, like cookies or a cupcake or something else divinely sugary from the oven.
Ew, smoking!
I've been trying to get away from those extra calories lately, so I'm trying something different. Smoking. Okay, wait, not real smoking as in cigarettes, pipes or cigars (although I do enjoy smoking a nice handmade cigar a few times a year on the back patio or deck). Let's be clear, smoking tobacco products is stinky, dirty, unhealthy, and definitely not something I do or recommend doing. But vaping, on the other hand…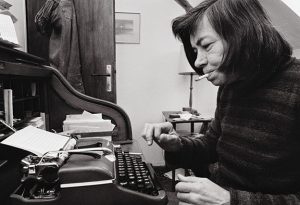 The "new" smoking
Vaping is my new "healthy", non-caloric writing diversion. It requires a special (rechargeable and refillable) pen or device that heats up "e-juice" to about 200 degrees or so, which creates the water vapor when you draw on the device. You can inhale the vapor into your lungs or simply draw it into your mouth and exhale it.
The e-liquid, or e-juice as it's known in vaping parlance, comes flavoured, and the choices are endless (although I'm not talking about any funny stuff, i.e. any substance that's illegal). Some of the juices taste like coffee or whiskey, others like cake or pie, fruit or berries, and some even mimic the smell and taste of tobacco. You can get the juice with or without nicotine. Right now my favourite blend is strawberry-watermelon-kiwi (without nicotine), and it leaves a nice sweet note on the tongue. It feels like you're eating something sweet when you're not.
A healthy choice?
There aren't many reputable studies yet about the health risks of vaping. But if you vape nicotine-free juice (as I do) and do not inhale it into your lungs, health risks are pretty minimal. There's no tobacco smell, there's no smoke, no dirty ashes. But like anything, moderation is key.
Pass me the vape pen
I don't know if vaping will be much more than an experiment for me at this point, but if I'm reaching for my vape pen instead of chips or chocolate, my thought is that it's probably healthier than eating fatty food when I'm bored and needing a sweet distraction.
Ok, now it's your turn. What's your guilty distraction when you're writing?
The following two tabs change content below.
Tracey Richardson has had several novels published by Bella Books, two of which were Lambda Literary Awards finalists. Semi-retired now from a long-time journalism career, Tracey spends as much time writing and reading as her two demanding chocolate Labrador retrievers will allow. She also enjoys playing hockey, golf, and occasionally teaches fiction writing. History, politics and time travel are among her more exotic reading material. www.traceyrichardson.net; Twitter @trich7117.
Latest posts by Tracey Richardson (see all)