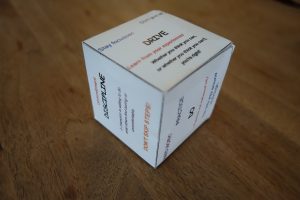 I have a square paper cube with words written on all six sides. It sits on my desk. I made this cube many years ago at a motivational talk given by a world champion archer.
I roll the cube like a die; the word "drive" is on top. Along with this word is "stay focused" and "Don't give up!"
There are moments when I am tempted to give up on my writing. I wonder who will ever read my scrawled out words (besides friends and family members) and the chances of being published (outside of self-publishing) seems like a mirage in the desert.
Previous to joining Ascribe Writers, I had stopped writing for many years. I was distracted with so many other things happening in my life.
  "Distractions" is written on another side of the cube and in small letters below:
"making decisions"
My desire to write resurfaced when I was driving to work on a winter morning five years ago. Snow hung on the tree branches and the sky was a pale grey. A perfect morning to stay at home, to light a fire in the wood stove, and to curl up in a blanket and write. But instead, I was driving to work, dreading my day, overwhelmed by the thought that I had some miserable task that was overdue to be done.
I stopped the car and stared at the empty highway. On my right, an old farmhouse sat with serenity, surrounded by white fields of snow. A dread filled my chest; I was never going to be published. I might not even finish that book I had started six years ago and hadn't looked at in… well, I couldn't even remember how long. Although I had a dream, I didn't have a plan or wasn't even stumbling along on the "just doing it" method.
I pulled myself together and continued to work. That day, I went to eat lunch at the Ginger Press Bookstore and Cafe. A large whiteboard advertised a writing course to be held that March. I signed up immediately.
It must be a message from the universe.
My cube has another side that reads "data". Know the basics, build fundamental skills, and get the right equipment. On that day, I started down the path of building my "data".
The idea of the cube is that when you are feeling lost or de-motivated, you can roll the cube like a die to recall an aspect that you need in your pursuit of whatever dream you have.
Often when I roll the cube, I get "do" – practice, hard work and that the only way around is through. And sometimes I get "discipline" – the twin cousin to "do". Discipline is about not skipping steps and doing what others might find boring or uncomfortable (translation: yet another round of editing is needed for that chapter to get it right.)
I think back to that winter day, five years ago, sitting in my car on the highway. I realize that in changing my approach to writing, I have achieved those dreams that I didn't think possible. I have now been published with my writing group in our book, Beneath the Surface. I finished writing and editing my book and it is better and stronger than I ever thought it would be and I'm really proud of it. Because I have I learned so much more about this craft of writing, from taking courses, the support of the other writers in the Ascribe Group, from reading books and attending conferences. And from discipline and doing.
Now I have new dreams. I am going to publish my book and write the other two books in the trilogy. I roll the cube; Desire comes up.
Aspiration and having smart goals.
Ability versus willingness.
Fun and excitement.
I look forward to the next five years.
The following two tabs change content below.
Seana Moorhead
Seana Moorhead is an aspiring writer and is working on completing her first fantasy novel. She moved to Grey County in 2002, having a passion for outdoor adventures, including kayaking and wilderness camping. Suffering from a book addiction, she will read almost anything that will grab her attention, lead her into another world or teach her something new. Seana lives in a bush lot near Owen Sound, Ontario with her partner and three dogs.
Latest posts by Seana Moorhead (see all)