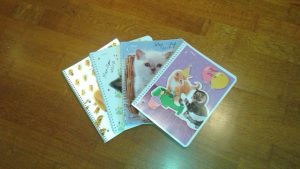 Do you journal? I do. I first learned to write by reading Natalie Golberg's, Writing Down the Bones and utilizing her method of free writing. Not long after was Julia Cameron's, The Artist's Way, and her practice of writing three pages every day. These were my beginning teachers and these are the lessons that still keep me connected to writing even in the most hectic times and some of my hardest times.
This summer we've been under renovations and on a mission to clean out old junk and papers. This has been a long-time coming, but a deck and bathroom project gave us the impetus to hire a bin for a week. So we spent our August long-weekend digging out our basement to fill the remaining space with anything ready to go.
It's a dirty task, but feels good after. We're still getting rid of stuff, and the renovations aren't quite done, but we're getting there. Thankfully, we had two weekends of weddings to force us to go away and spend time with family and friends. One wedding involved renting a cottage for a few days and we managed a sunny trip to the beach in a summer that never quite warmed up.
Through all this, it's been hard to work on my novel. Plus I was gathering my thoughts, re-working my outline. Back in June, I ordered four writing books from Amazon that seemed essential to my going forward. And they have been. How did I write before? (Not well, I suppose, which is why I'm re-writing my novel.) My house is in chaos with stuff being moved from one room to another. Some of it to my sacred writing space, my library. Losing my space has been especially difficult. As a novel writer, I don't travel light. I have books and notebooks, cue cards and a computer. What will I need next? What aspect will I be focusing on? Will I be able to focus?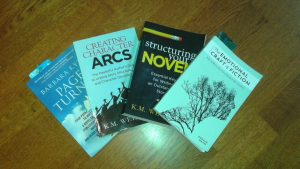 The answer to the last one is, not always. And that's where the notebook comes in. For me, a spiral-bound notebook–wide-ruled so I can write fast and big–and my fountain pen and I'm good to go. Throw in a book on craft and I've got something to sink my teeth into when time allows.
My notebook is where I write down all the stuff that's circulating in my head. And it helps me get it out, stops the noise upstairs so I can move to fiction writing. I've had a tough year with two deaths in our family and my notebook has been my faithful friend. A place for me to pour out my emotions. Time spent away from home means stealing extra minutes with a pen. Too much time with extended family? Get it out in the notebook.
But this doesn't always feel like "real writing". Sometimes, it's my diary. But I like to think of these pages as my "scales". A way to warm-up to writing. It's also a place for ideas, about life, about stories, about work and what I need to do. It's a place to just be free to write whatever I'm thinking. It's where my real world meets my fictional world in the place of writing.
I've taken notes from science talks and notes on what it means to be Mennonite. I write down snippets of discussion heard on CBC, book recommendations and thoughts for further contemplation. And when I've gotten the noise out, I do writing exercises.
It's back-to-school time, the renovations are done, my writing room is back and so are my routines. There's always a sadness at the end of summer. Did you do it all? Was it good enough? Did you make the most of it? I didn't swim as much as I wanted to, but the weather didn't help. And I never get as much writing done as I hope.
This is where routine comes in. I have "my space" back, days are filled with schedules that start earlier. I've set goals and have two courses I want to take to help me through. Do I always reach my goals? No, the weeks fly by. But this year feels different, more organized and my kids are older.  I hope that helps to make focusing easier. Next week I'm off to a meditation retreat which will really help my focus. And I'll still meet my writing goals.
I'll miss summer. But I was the kid always excited to go back-to-school.
The following two tabs change content below.
Diane Ferguson
Diane is an accountant by day, an amateur astronomer by night, and a writer by morning. Having just completed her first novel, she'€™s come to embody the maxim, writing IS editing. Diane and her husband are raising two girls in the wilds of Grey County and are home to 2 dogs and 5 cats, at last count. She'€™s also been involved with the Words Aloud Spoken Word and Storytelling Festival for the past 10 years. (www.wordsaloud.ca).
Latest posts by Diane Ferguson (see all)