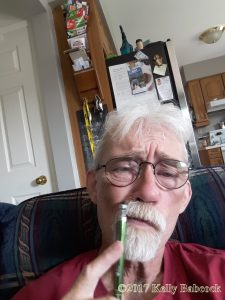 Can I tell you a secret?
What? I'm always telling secrets?
Well, maybe I am, but that's never stopped me before.
Okay…
Right, the secret, there's no such thing as inspiration.
Well, there is, but it doesn't strike. It isn't a bolt out of the blue. In short, it doesn't suddenly happen.
Fine, don't believe me.
But I'm the guy who tells secrets, not lies.
So here's how it works
You think that inspiration "comes along" and you're sure it happens when you least expect it, but that's just the way it looks.
The thing you thought inspired you is innocent of blame, you relaxing your mind and letting it roam randomly, that's what did it.
Trust me on this…
I'm an expert on the randomly roaming mind. You know you need an idea, and you try to push your mind into finding one, and it doesn't work.
You beat yourself up metaphorically (or actually maybe, hey, I don't judge) and then … you give up.
Now follow along here
It's at this point that something in your mind or in your line of sight rears its fortuitous head and sparks a thought.
And then that thought gets together with some of its friends. And they form an idea.
Ideas are dangerous
Nope, ideas are inspiration. But don't misjudge what happened.
The idea didn't inspire you, you thought it up, you inspired the idea.
So that's the secret?
Nope. Well, that's a secret. You deserve credit for your inspirations. And you should damned well take it.
But the real secret is that you need to let go of your mind to find inspiration. If you're thinking about doing something, you're not doing it.
The real reason …
The real reason people say that inspiration struck is because they had given up, set the task aside, and so thought that they were no longer thinking about it.
And then, "Surprise!"
So how many times?
How many times have you heard the advice, "If you're having trouble thinking of a solution, just set it aside for a little while and come back to it later." and thought, yeah, I'll try that?
And have you ever tried it? And has it worked? And has it worked almost immediately?
And do you ever try using that process before you're stumped? Before you declare writer's block? Before you're pulling your hair out in anguish?
And …
… don't you think it should be more of a common approach in your writing, the way you actually inspire yourself. Don't you think it should be your first try, rather than the last resort.
Just a thought.
The following two tabs change content below.
Kelly Babcock is a published blogger, author, freelance journalist and song writer. He is a poet, musician, contractor and contemplator of life and other silly notions. He is commander of a memory research team of one that often goes on days long expeditions into his own memories or ones he makes up. Also, he is a connoisseur of coffee.
Latest posts by Kelly Babcock (see all)