Sometimes, I resist trying new things, for fear of failure, but eventually, I force myself to do it. Sometimes, I regret the decision instantly and other times, I surprise myself.
All my writing friends know that I hate participating in writing exercises. Those on-the-spot moments where an instructor snaps her finger and says, "We have five minutes, let's write something with the words: Baby, Police and Dietary Fiber in it. Go!" And, of course, she also mentions we will be reading the exercises out loud. Seriously, I'd rather stare out the window and count snails slithering by, than write something that will waste my time. AND, there is no way I want to read my drivel out loud into the room where every word can bounce back and hit me in the forehead, reminding me how stupid it sounds.
Well, last fall, I attended the "Turning Leaves" weekend writing retreat in Orillia with Writescape. There were optional creative writing sessions in the morning and afternoon that writers could attend and be challenged with writing exercises. I wasn't interested in participating in any of that. I'm not a fast thinker or a fast writer. These exercises would not be for me. I thought I might take a nap instead.
Surprise #1: I attended ALL of the writing sessions (mainly because I heard there were free drinks, muffins, cookies, and fruit. I figured I could find a quiet place in the back corner of the room and eat my snacks while listening to everyone else share their writing).
Surprise #2: I wrote a poem (and it wasn't that bad). Thanks to Gwynn Scheltema-Anderson for that exercise.
Surprise #3: I wrote a few new short pieces of fiction. Thanks to Ruth E. Walker for those exercises.
Surprise #4: I volunteered to read them aloud to the class. (AND I didn't hate them.)
Yes, I was terrified to share my work, because of course, it's really just a crappy first draft that I wrote in under five minutes. What do you think happened to me? Nothing. I didn't faint. I didn't vomit. I actually read in a loud (somewhat shaky) voice and it felt pretty darn good to share. People commented and I didn't crawl under the table and hide, nor did I cry. Most of their comments were positive and encouraging. They wanted more of the story.
Surprise #5: Usually, those writing exercises are forgotten in a notebook somewhere, or thrown in the garbage… but, when I returned home from the retreat, I worked on one of the pieces that seemed to be the most shocking to the audience, and it made most of the listeners cringe a little bit. I expanded the 188 words I had written at the retreat into 1000 words, then edited the piece to 500 words for a contest.
Surprise #6: I was brave and entered it into the Geist Magazine Postcard Contest on January 15th.
Surprise #7: I made my own postcard with my camera and self-timer.
Surprise #8: I was naked. (My husband flipped out a bit because I was showing too much boobie. Oh well, such is life… it was mostly a hand shot).
Surprise #9: I decided to read my piece to a packed room at the Stephen Leacock Museum last Sunday. The Writers' Community of Simcoe County had Literary Agent Megan Beadle visiting. Apparently, Author Molly O'Keefe (December's WCSC guest) had pulled my name out of the hat to be a reader at the January meeting (I have no idea how my name even got in the hat, because I didn't put it there). I HATE reading out loud to a crowd of people, but I did it anyway. That morning, I worried about it for the entire two-hour drive to Orillia, thinking I could just say I forgot my piece of writing (you know, lie about it to save myself some embarrassment)… BUT, I didn't. I couldn't lie.
Surprise #10: The room was half full of men (which never happens) and my piece was a controversial piece about abuse of women, abuse women do to themselves and other cringe-worthy things I won't mention here.
Surprise #11: They had reactions to my story. Every single pair of eyes stared right into mine, while I read to them. Their body language and facial expressions told me everything I needed to know. It made me smile a little (when I shouldn't be smiling). I thought I'd be scared, but I wasn't. I read slow and deliberate, annunciating every word.
Surprise #12: I received applause (but, it is the polite thing for people to do). I smiled.
Surprise #13: People searched for me during the break, to shower me with questions and comments (I was definitely not expecting that). They wanted more of the story. They wanted it to be a novel (it's not). They told me my voice was powerful, they were so moved by my words… and two of the men told me my story made them cringe to envision the scene, but they loved the story.
Surprise #14: My favourite comment was from an older lady who was visiting for the first time. She said, "Thank you for reading your work today, but I was completely horrified by your words. (I swallowed a big lump of uh-oh). Your voice made me shake some and I could feel some of that pain, as if it was happening to me. I didn't like that. (Now, I felt guilty). But my, what a magnificent storyteller you are. (I grinned). Your voice just held me in my seat, waiting for everything to turn out okay. (Ahhh, then I smiled. That wasn't so bad). Is that a true story about you?" (I think I mentioned it was fiction… FAKE NEWS! Ugh!)
Surprise #15: I'm feeling a little bit more confident, knowing that I can string together a few words that move people to a reaction. I want a reaction to my words. It doesn't have to be good. I want my work to be controversial and to make people talk to one another, instead of staring at their damn phone. Talk to me, people!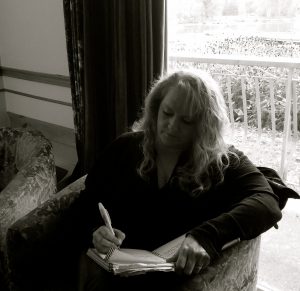 Surprise #16: I signed up for the extended 5-day long writing retreat Spring Thaw by Writescape, just so I can torture myself by attending more writing exercises… and finding more time to write MORE words.
Surprise #17: I'm back to writing every single day, both in the morning and at night. Editing makes everything better. Not perfect, just better.
Sometimes, I wonder why I resist trying new things… because sometimes, it turns out okay. Or better than okay! I need to surprise myself more often. You do too! Stop resisting. I dare you to try something new this week. You may surprise yourself how good it makes you feel.
SaveSave
SaveSave
SaveSave
SaveSave
SaveSave
The following two tabs change content below.
Lori Twining writes both fiction and nonfiction, with her stories winning awards in literary competition and appearing in several anthologies. She's an active member of many writing groups: International Thriller Writers, Crime Writers of Canada, Romance Writers of America, Toronto Romance Writers, Writers' Community of Simcoe County and Ascribe Writers. She's a lover of books, sports and bird watching, and a hater of slithering reptiles and beady-eyed rodents. www.lvtwriter.com; Twitter @Lori_Twining.
Latest posts by Lori Twining (see all)