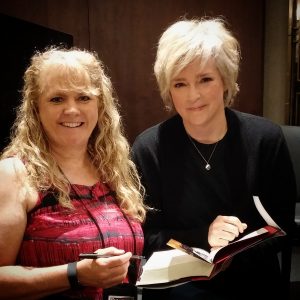 'Seriously, I'm freaking out, right now. Holy crap! Is Karin Slaughter actually talking to me? I'm legitimately crying inside, as I'm the biggest Will Trent and Sarah Linton fan ever. No lie, Karin is my favourite female author in the entire world. I ask her for a photo and she's all smiles (because she looks like a million bucks, standing there in a pair of sparkly diamond loafers) and says, "Absolutely, Lori." Oh my god, she knows my name? (Yes, I was wearing a nametag, so of course, she knows my name—duh.)'
Starstruck moments happen to everyone, but for me, it doesn't happen after a music concert when meeting Ed Sheeran (of course, it might, as I do love this guy's music), and it doesn't happen after a Stanley Cup play-off game when Sidney Crosby, from the Pittsburgh Penguins says hello and signs your hockey jersey (which this would be awesome too, as he is a great Canadian hockey player and they did win the Stanley Cup this year)… BUT, for me, the ULTIMATE BEST THING EVER is meeting my favourite authors who write amazing thriller novels. I'm a booklover and I love books. I'm a writer and know how hard and how much work really goes into writing a novel. I'm completely in awe of these people AND, I love, love, love these particular authors who write these books. I love them MORE than anyone else in this ENTIRE WORLD (okay, maybe not more than my hubby and children, but you understand what I'm saying—I would travel all the way to another country just to say hi to them and get them to sign my book).
Does this sound crazy?
I'm thinking it might, but you don't understand the magnetic draw I have to authors and their books. I'm an EXTREME bibliophile through and through. I read over 120 books a year. Books are my life.
This week at the writing conference, I found myself constantly blurting out, "I love your books!" All the authors smiled, laughed, and thanked me. Some even hugged me and carried on full conversations with me. This was so inspiring for me.
As a writer—or more accurately a mere tiny unknown human who writes every day (and no one actually reads it) and is struggling down the path of finding an agent and a publisher—I go absolutely gaga over a celebrity thriller author. So, I feel it is totally normal to completely lose my shit, when I meet a celebrity author in the flesh and I start talking a mile a minute about all the characters they have created and why I love them and ask them when will they be writing the next one in the series, etc. If I were a celebrity author out meeting fans, I would love this, wouldn't I? I would like to think so.
The toughest part for me is realizing I'm an introvert by day (a shy, reticent person that is predominantly wrapped up in my own thoughts and feelings, while I work alone and not really wanting or feeling the need to mix with other people) and I'm letting my extrovert moments escape for small periods of time (which requires me to be brave and to just go for it), all the while trying to keep the inner fan girl from attacking these people and hugging them and squeezing them until they can't breathe (this is where the restraining orders start adding up ~ sorry Lee Child).
Here are some of my celebrity moments from this past week at the Thrillerfest Conference in New York City, showing everyone that I couldn't contain my excitement when meeting them… nervously, I threw out some funny one-liners to make them laugh or smile while taking a photo with me.
There were authors who seemed to tolerate me… 2017 ThrillerMaster Lee Child.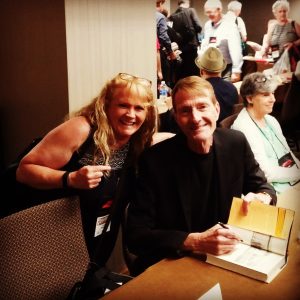 There were authors who seemed to love me… Peter James.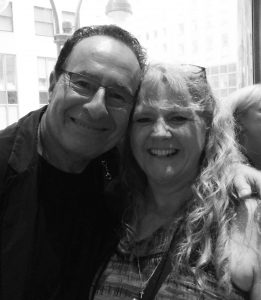 There were authors that couldn't help but keep running into me, waving at me, giving me hugs and pretending to remember me… like I was their ultimate fan (which was quite true).
Sandra Brown waved me over to her table during one of the cocktail nights and called me by name (I almost completely lost my shit and burst into a few tears ~ for the record, I was NOT wearing my name tag at that moment). Sandra said she loved the picture of us that I had posted on Twitter the night before and she thanked me for posting it. She proceeded to speak to me about writing, where she writes and how often she writes, etc., almost like we were real writing buddies. This was so freaking awesome. I love her!
And lastly, there were the people who actually DID remember me and follow me back on Twitter and Instagram (THESE PEOPLE ARE KICKASS UNBELIEVABLE HUMAN BEINGS THAT MAKE ME SMILE). Canadian author Sam Wiebe talked to me about how he landed his agent, Chris Bucci (a guy everyone would love to have). UK Author Peter James was so friendly, he kept waving at me every time we passed each other in the hallway. He asked me about my current novel and showed some interest. This made me happy. Lisa Scottoline laughed with me, hugged me and we talked about the Rosato & DiNunzio series (an all-women law firm in Philadelphia). David Morrell and Walter Mosley threw out several funny stories trying to entertain me during one of the cocktail parties. Lee Child loved the fact that both my husband and I read his books, and we have an entire Jack Reacher section in my office on the Lee Child bookshelf. Jon Land kept asking me if I was having fun yet. I told Kathy Reichs she was the most amazing scientist and forensic anthropologist I have ever met, especially one that writes books. She hugged me in appreciation.
For the record, there was a blockbuster line-up this year featuring many other big name authors like: 2017 Silver Bullet Award recipient Lisa Gardner, 2016 ThrillerMaster Heather Graham, 2016 Silver Bullet recipient John Lescroart, and the authors of International Thriller Writer's new anthology MATCH UP (all proceeds going back to ITW), including Lara Adrian, Steve Berry, C.J. Box, Sandra Brown, Nelson DeMille, Diana Gabaldon, Andrew Gross, Charlaine Harris, Lisa Jackson, Peter James, J.A. Jance, Michael Koryta, Eric Van Lustbader, Gayle Lynds, Val McDermid, David Morrell, Kathy Reichs, John Sandford, Lisa Scottoline and Karin Slaughter.
If you love writing thrillers or mystery novels…
If you want to learn the craft of writing from the Master Thriller Writers…
Or you just want to rub elbows with famous celebrity authors…
Then you NEED to be with me in New York City for Thrillerfest 2018 next July.
Get inspired. Get motivated. Come meet the people who write amazing stories. Sign up for their workshops: FBI workshop, Master CraftFest, CraftFest, PitchFest and ThrillerFest. Sit in the front row during the panel discussions. Listen to their personal secrets on how they broke into the business, how networking with others is extremely important and basically how supporting one another, whether you are a big time author, a debut author or a newbie fighting your way into the business will get you on the path to success.
For more information on Thrillerfest, go HERE. My ThrillerFest writing buddy, Colleen Winter will be my sidekick again next year, and we are already planning our trip. So excited.
I leave you with one last secret… next year, rumour has it that George R. R. Martin, the author of Game of Thrones will be in attendance at ThrillerFest18.
The following two tabs change content below.
Lori Twining writes both fiction and nonfiction, with her stories winning awards in literary competition and appearing in several anthologies. She's an active member of many writing groups: International Thriller Writers, Crime Writers of Canada, Romance Writers of America, Toronto Romance Writers, Writers' Community of Simcoe County and Ascribe Writers. She's a lover of books, sports and bird watching, and a hater of slithering reptiles and beady-eyed rodents. www.lvtwriter.com; Twitter @Lori_Twining.
Latest posts by Lori Twining (see all)