I'm sitting in the parking lot at the grocery store watching a senior couple load their purchases into their antique car. A refurbished red dodge convertible.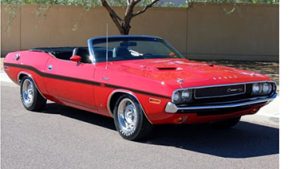 Something makes me relax and decide to watch them. I'm sucked into the scene when I notice that this couple is different than the usual parking lot shoppers, the ones who have just gone in for a few things and have a bag or two to throw in the front seat, or the ones in high gear trying to get the shopping task done as fast as they can.
It has taken them ages to organize the mechanics of this task, he's opened the trunk, and packing it properly is obviously important – like they're going on a long trip -a combination of bags and a case of G2, his wife is waiting, gazing at the sky with a smile on her face, holding loose bags of munchies to pass to him when he's ready. He packs those and she takes trays of baking from the cart and stands there waiting again.
He closes the trunk and goes to open his drivers door, leaving her standing there still smiling with the baking in her arms, the empty cart beside her. But then he remembers her and shuffles around to her door, pulls the front seat forward with difficulty, takes the baking from her one at a time and packs it in the back somewhere.
Once she is free of her armload, she pushes the cart back to the stall. He's gone back around to his door and she to hers. Not a word was spoken. They know each other so well.
He starts up the old car, the rumble sounds a lot like it used to in its younger years, and they pull away as slow as molasses. They're probably just going home down the street and around a corner or two.
A real outing.
This description might be long, but you should have been here to watch. If you're a people-watcher like I am, you will see a lot more beneath the surface of their exterior. It's in the movements of their bodies, facial expressions (even if there aren't any), how they function when another person is around them, how they treat other people, AND inanimate objects.
Does he slam the trunk lid down? Or does he try his best to move like the younger man he used to be? His arm quivers with weakness reminding him that there is no turning back the clock. He's aware again, and he grumbles as he shuffles to the drivers side of his ancient car.
I don't know at what point I had the idea to write this scene down. I think I just wanted to share what I saw. In describing it, I wanted you to understand and hopefully share the same feeling I had when I sat in that parking lot. Those two lovely ordinary people living those few moments. And they don't even know someone wrote about them!
Inspiration strikes whenever it wants to!
The following two tabs change content below.
Alison Hall
Alison has enjoyed a variety of occupations over the years. From exotic dancing to piano teaching, her experiences provide fertile ground. She has much to write about and has discovered a passion for story-telling. Alison participates in the Muskoka Novel Marathon and was awarded runner-up for the adult fiction category. She's also won two awards for her short stories. While short stories are her forte, she hopes to complete a full length novel someday.
Latest posts by Alison Hall (see all)