Life is Busy
We all have commitments that fill up our day, our calendar and our thoughts.
At times, it seems as though my life and the choices I have made are overtaking my ability to continue to decide how I want to spend my day.
There comes a point where we need to clean house and decide what must stay on our 'to do' list, however, lately it seems the things that tend to get kicked off my plate are things I actually want to do.
So there goes writing time
Time to give up. Toss in the towel. Zip up the heart and close the computer screen.
If you know me at all, I can already imagine you shaking your head and mumbling,
"What's the catch?"
Allow me to digress, one last time, into storytelling, because as I've stated, I'm quitting this writing thing.
How this quitting thing all started
At the end of this too short summer, on a beautiful sunny Saturday afternoon, my daughter's ball team was winning their way into the finals. The trouble was the championship game was to be held an hour from my veterinary practice and I was on call. I inconvenienced my partners and arranged to be present at the ball game, making a choice to be there to support my daughter for this important event.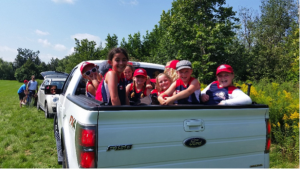 As we were organizing lunch between games and I was assisting with handing out popsicles and cold water, a bright eyed, perky team mate of my daughters, quirked her head to the side and blurted,
"Are you Hope's mom? I didn't think Hope had a mom."
Ouch.
I will never be able to remove those innocent and curious words from my memory bank.
For that afternoon, as my daughter's team battled to stay in the winning – I kept replaying those words.
It was time to clear my plate and to stop doing anything that wasn't essential.
THINGS TO STOP DOING
No more after work meetings. I can move these to when the kids are sleeping. Hell, I don't need to sleep.
Quit my job. Nice try. LOL. Not really an option for me as being a veterinarian is a part of who I am.
No more 'on call' or late nights at work. This is a real thigh slapper. Not an option either, as I am a business owner and I provide medical care to important family members. Fact – Being a veterinarian in a rural area means after hours work.
No more grocery shopping, paying bills or cleaning house. My favourite suggestion – but I'm already a terrible house keeper – so I don't think I can cut back here and if I don't pay the bills, my daughter won't have anything to eat or a place to sleep.
So that leaves my writing time. I quit writing.
Can I Really Quit Writing?
Although I might hide in my car to write while the kids are warming up on the ice or hide occasionally downstairs with ear plugs while the kids finish their homework, I have never chosen to write during an event for which my kids would be looking for my support.
Sure, I go to writing conferences and I have escaped on writing retreats, but I have never skipped out on a family event to hide and write.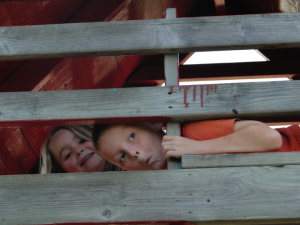 I write because it is a part of who I am. I grow and learn through my writing. It makes me a better person and a better mom.
By pursuing my dreams, I'm a model to my children that although they will have responsibilities in their life, there is no need to sacrifice what makes you purely happy and helps you to grow.
As a writer, I think I can relate to my kids more. I can put myself in their shoes and imagine the world from their perspective. I have respect for their adventure and I encourage them to try to imagine how others might feel, which I hope will stir in them compassion and empathy.
I know the truth in my heart. I'm invested in my children, their adventures, their successes, their schooling and their wellbeing. I've changed my fair share of diapers, I kiss each of their foreheads at bed time and I'm still the band aid sticker-on'er and child-activity-chauffeur. Just because I didn't make a memorable impact on one of my daughter's team mates, my daughter knows that I'm always there to cheer her on.
To quit writing – is not an option.
I'm going to retitle this blog.
Why Being a Writer has made me a Better Mom
The following two tabs change content below.
Donna Judy Curtin
Donna Curtin practices veterinary medicine in Bruce County, Ontario, close to her rural hobby farm where she lives with her husband and two children. As a compliment to her veterinary career, she aspires to become a published novelist. Animals play a large part in Dr. Curtin's writing as within her world, written or real, animals play important characters just as often as people.
Latest posts by Donna Judy Curtin (see all)