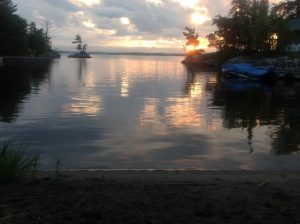 Black smoke billowed from the car as we sputtered to a stop on the side of the road directly under the Kirkfield lift lock east of Fenlon Falls, Ontario. Hubby and I managed to move the vehicle to a shady spot in a restaurant parking lot a hundred yards away but it clearly wasn't getting us any further. Not the best way to start a vacation.
The breakdown was a distant memory though as, several days and sixteen hundred kilometers later, we turned on to Took Titch Road in the northwest part of the province, and wound our way down a narrow lane to our own little beach on Rainy Lake. An old log cabin with red shutters and cedar deck would be home for the next week.
Travel to new places has its own allure and excitement but this holiday was more like coming home; familiar surroundings and long-time friends to visit. The best decision made on this trip was to arrange for our own place for the week. As welcoming as friends are, offering their homes and cottages, it's especially relaxing to let the housekeeping go and to stay in pyjamas as long as you like. And it's fun to host get-togethers; instead of always being the guests.
As we'd made our way north, it was easy to imagine writing a travel review. North of Sault Ste. Marie, highway 17 snakes through the lush boreal forest, tunneling through nothing but green for miles. Even the pre-Cambrian rock of the Canadian Shield is barely visible for quite a stretch. Immense granite walls eventually appear to guide you along your way until, near Thunder Bay, they rise like giant impenetrable fortresses. Lake Superior is a star along the journey as well, with postcard vistas around every bend. The stretch of highway 17 from Sault Ste. Marie to Thunder Bay has more bridges than the rest of the trans-Canada combined and the last spike of the CN railway was driven into the rails near Vermillion Bay, four hundred kilometers west of Thunder Bay.
Whether you're a planner or like to wing it when traveling, the best laid plans can go astray and a lack of planning prove disastrous. If you're lucky, there will be a bright side to most dilemmas. We felt surrounded by good luck as we're mostly non-committal with our day to day plans. The broken down car was towed two hundred kilometers home and luggage transferred to our truck. We didn't miss a day on the road. On two separate occasions we arrived at our destinations, weary from long travel days, to absolutely no vacancies in town, but were able to find rooms a couple of hours down the road. New for us, we brought our dog along and it was good to learn that many motels accommodate pets. Did you know that small airports make great rest stops? There's often a lunch counter and you'll almost always find someone who can share info about the area.
I love the fun surprises along the way. Between the Sault and Wawa is a protected stretch of sandy beach at Old Woman Bay and the day we stopped there, it was the scene of a small wedding. Maintaining flexibility meant we could stay longer than planned to enjoy the celebration and soak up some sun with our toes in the sand.
The vacation proved relaxing and rejuvenating. We packed a lot in – grandson's first holiday, boating, island hopping, bonfires, wild blueberries, reminiscing, dinners with friends, outdoor films, music… AND I managed to find some writing time too. So, these travelers highly recommend getting away and not letting potential setbacks or calamities get in the way. The memories are worth it.
The following two tabs change content below.
Bernice Connell
Verging on retirement from paid work, Bernice is excited to be getting to the work and fun of writing. She's thrilled to be relocated in southern Ontario after 35 years in the northwestern part of the province. Being a writer of short stories is her goal.
Latest posts by Bernice Connell (see all)