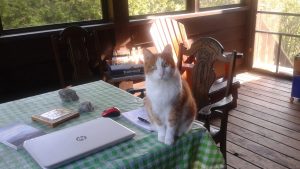 If you're anything like me, you have a life that keeps getting in the way of your writing. I have a job, two kids, other hobbies, and a house and property to look after. I try to balance it all out, juggle all the balls, but sometimes you're thrown a curve that can keep you pre-occupied for months. Or maybe you're even thrown three curve balls, at the same time, plus all the other stuff that comes up like graduations and birthdays. There are at least two reasons to keep a writing practice going even when it seems like you'll never have more than half an hour to write at a time.The first reason is, like anything you have to keep your muscles strong. My husband is a musician and I've envied him his obvious practice tools such as scales or just the practicing, the playing, of a song. As writers I feel we're always supposed to be on, either editing or creating something new. This can be an enormous pressure when there is no open space in our heads for this work.
The second reason to keep a writing practice going is so you don't get resentful of all those important life events. In my own life, I get up
early to write and meditate before I even start my day. This way, no matter what comes after, I came first. I can deal with all the curve balls and it doesn't matter if I'm tired at night, I wrote in the morning. Of course, it would take me a long time to write War and Peace using this method.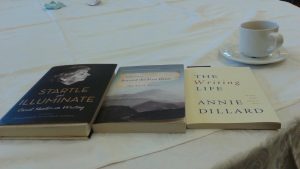 But this way I'm ready for when time does open up. I've kept a line open to my creativity and my hand is warm. I do most of my writing practice by hand in a notebook. I come from the Natalie Goldberg school of writing: keep the pen moving. For me this is a fountain pen and a spiral notebook. I can take them most anywhere and the fountain pen lets me write in a continuous smooth flow without my hand getting tired.
My usual writing practice is either writing a minimum of three pages per day, or a minimum of 10 minutes on a writing prompt. The three pages concept comes from Julia Cameron's, The Artist's Way. Books like that can set you up for a routine of practice. I tell my kids, anything that you want to do well requires practice. Yet I'm challenged in writing sometimes by what practice is. In my own head I put myself down for not progressing on my various projects.  I have to fight a block in my head and forget my to-do list and let some creativity flow.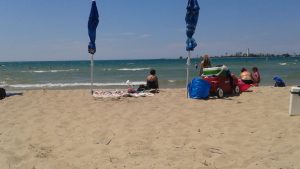 And I love my writing books. Reading about writing can help fuel the fire and most will include prompts and writing exercises to keep up your various skills. I was recently on a little beach vacation in Southampton, Ontario. I brought a serious to-do list but was feeling out of practice. The computer can get in my way too. Don't get me wrong, I'm no Luddite. I work on three different computers daily, but there's nothing worse then sitting down down to try and create and having technology problems. Nothing will ruin the mood faster than that.
Not to mention those two kids I try and keep a little active. We had lots of beach time, cycling, tennis and a few visits with friends. So it was back to practice for me. My laptop and to-do list remain shuttered. But I hadn't thought to bring any writing prompts and I didn't have access to the internet for ideas. So I took my most basic exercise: Pick up a book and choose any 3 words at random. Now write. So I wrote every day. I didn't produce the great Canadian novel, but I kept my muscles warm, kept the door open till another time. Life will slow down, won't it?
The following two tabs change content below.
Diane Ferguson
Diane is an accountant by day, an amateur astronomer by night, and a writer by morning. Having just completed her first novel, she'€™s come to embody the maxim, writing IS editing. Diane and her husband are raising two girls in the wilds of Grey County and are home to 2 dogs and 5 cats, at last count. She'€™s also been involved with the Words Aloud Spoken Word and Storytelling Festival for the past 10 years. (www.wordsaloud.ca).
Latest posts by Diane Ferguson (see all)