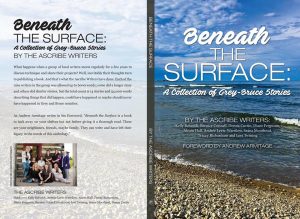 From the first word we ever typed, penned, or scribbled, all of us who have written anything have always dreamed of one day seeing our work published.
And that's what happened this week for The Ascribe Writers: the book launch of the first anthology of our short stories, Beneath the Surface: A Collection of Grey-Bruce Stories.
The idea of an anthology grew during several group meetings. We approached Maryann Thomas, a local publisher, to see if she thought we had a viable idea in the first place. She told us her criteria for publishing: local authors, local connections or settings, and up to 6,000 words for each of the nine writers. We got back together again and met to brainstorm themes, finally deciding on "beneath the surface". We had to decide to write one story 6,000 words long, or two at 3,000 each.
We wrote up timetables for deadlines – (I think we missed the very first one!). We wrote, and met, and wrote, and read aloud outlines, bits of ideas we had, and always we inspired and encouraged each other.
I wish I could tell you that after writing, re-writing, and re-writing again, we were ready to publish.
Nope.
committed to crafting our very best
The group decided that each story would run the literary and grammatical gauntlet of four editors (and props to Tracey, Seana, Kelly, and Lori – those four helpful and discerning folks who volunteered to take on this massive task in addition to writing their own stories). We were committed to crafting our very best work.
It was one of the finest collaborative experiences I have ever had.
Yes, the grammar mistakes were caught (and one glaring anachronism). But most valuable were the different points of view: "… would the character see that / say that ?" "…. show, don't tell."
The comments from the four editors were always respectful: "…just a suggestion." The work was always yours, to make changes as you saw fit, or not.
trepidition
You can imagine the trepidation we felt when at last all the stories were printed off in a manuscript and sent to the publisher.
And the utter joy when we got the nod.
We still had work to do before the official launch at the Ginger Press Bookstore. Some practiced reading excerpts aloud. Some decided to relate the inspiration for the stories themselves. Finally, there was not one more damn thing we could do – it was the day of the book launch.
(Launch her we did, to a packed crowd, with standing room only).
And finally – finally – there is the indescribable feeling you have when a stranger comes up to you and asks if you would "…please sign my book…"
The following two tabs change content below.
Andrée Levie-Warrilow
Andrée loves the English language. It all began one dark and stormy night at the university student newspaper office: she went in to volunteer as a proof-reader, and ended up a book and theatrical reviewer. She has ranged between being a poetry judge and working full time as an editor for Insight on Collectables, writing articles on antiques and collectables and interviewing featured artists. She has derived great joy in passing on her love of the language as an ESL tutor, and is a published poet and freelance journalist. Last, but not least, Andrée enjoys the meetings with her friends and fellow writers of Ascribe, where she gets information - and inspiration - on the arcane mysteries of writing novels. She's working on her second one now.
Latest posts by Andrée Levie-Warrilow (see all)