This month, my writing group has taken an interest in developing their author websites and all I could think of while they were discussing this topic was… "Please don't look at mine as an example."
Why?
Because I'm one of those authors that still hasn't decided on how to brand myself. You look at my landing page on my website and you will have no clue as to what I write. This is because I'm prone to genre-hopping. This allows me to write anything I want, whenever I want. I like to be in control. I don't want to be known for only one thing. Yesterday, I worked on Literary Fiction and today I worked on a Suspense-Thriller novel. Who knows what I'll work on tomorrow?
What's wrong with that?
Well, I've spent an entire week in Manhattan over the past two summers attending Thrillerfest (a conference for Thriller, Suspense and Mystery writers, hanging out with the BIG FAMOUS AUTHORS. I was lucky to have personal conversations with these people and the high majority of them agree on one thing:
"It's okay to write in several different genres, if you just want to write for the fun of it. You will end up with a small following of readership in each genre, which is good, but not great. However, if you want to be well read, if you want to be famous for something, or if you want to make money with your books… you NEED to have a brand. Branding is important to have in place, before you sell your first book."
Branding… what does that mean?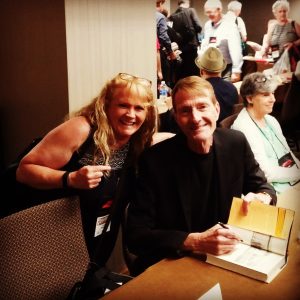 If I say the name Lee Child (yes, he was one of the authors strongly promoting branding) what do you think of? Probably one of these words will come to mind: Action, adventure, thriller, or more often than not, just the name Jack Reacher. Lee Child has published almost two-dozen novels with the same main character in every book: Jack Reacher. Everyone on this planet knows who Jack Reacher is, and they are also aware of his creator, Lee Child. You may not have read one of his books, but you know who he is and what he writes. Maybe you watched a movie about Jack Reacher? The movie was of course, based on one of Lee Child's books. Get the idea? Lee Child is the perfect example of branding like a boss.
Stephen King is also a fabulous example for branding. Who is he? What does he write? If you don't know that he writes horror stories, than you've been living under a rock. Stephen has branched out with supernatural fiction, suspense, science fiction, and fantasy too, but only after writing a few books in the horror genre.
Branding is the first thing that comes to someone's mind when they hear the author's name. It's their style, their unique voice and the combination of reoccuring themes, characters, and settings that make up unique elements to that author.
Therefore, branding doesn't have to be about the genre you write in, but it is everything that you do and the way you do it. Plus, it is the way your readers will interpret your words and stories.
I think a Twitter writing buddy of mine (hilarious guy, if you don't follow him or read his blog, you should) says it best:
"The key for me is that, when I seek a book by an author, I want that book to be a book nobody but that author could've written. That, for me, is what voice—and branding—is all about."
~ Chuck Wendig, Author (Novelist, Screenwriter and Game Designer)
To further your identity as an author, everything you do should further your branding, which includes your author website, your social media accounts, your publishing credits and even your business cards. Make people remember you. In Chuck Wendig's case, if you spend a few minutes to read one of his blog posts, you will hear his unique voice jumping off the page. You will love his words and the way he says things. YOU WILL RETURN to his webpage often. He's got you hooked. And, that was his plan all along. For readers to return to his website, over all the millions of other choices on a lazy Saturday morning. He just wants you to read his work. Don't we all want that?
How do you do this? How do you know what your brand is?
What do you like to write? Think about the genre. What do you like to read? Write it down. What genre do your favourite books fall under? What interests you? What makes you smile? Laugh? Cry? Get angry? Once you figure this out, you can start tackling your marketing and branding strategy. Most people would do best if they write in the same genre they like to read in. Find something that readers will link your brand to your name; something that will leave a lasting impression on them and arouse a positive, emotional experience for your readers.
So, if you do write in more than one genre (like me), you have to understand your road to fame and fortune will be a long curvy path that may lead to a readership of about twenty to thirty people. You may not care about this, and if you don't that's awesome, carry on as you were. Publish whatever you feel you want to.
Another choice is to split your time, and create different websites for each of your genres that you are writing in, using different pen names and working twice as hard writing for all the different names, trying to make each one of them a household name. If this is what you want, you need to work day and night to make this happen. Nora Roberts (aka J. D. Robb) handles this like a boss, as well. She writes as two different people quite successfully. She is the Queen of Branding.
However, if you were hoping to quit your day job and write full time (like me) and become Lee Child's competition on the bestseller list (wishful thinking on my part)… you NEED to think about branding. Soon. Notice how this blog comes full-circle, back to me, the genre-hopper… obviously, I really need to brand myself. Lee Child really knows what he is talking about, right? Unless you ask Author Brad Meltzer (Political Thrillers, Mysteries, Nonfiction, TV Show Creator & Comic Books)… and that's a whole other blog on multi-genre authors doing it right and it is working (which I'm considering, just to prove Lee Child wrong). Only time will tell.
The following two tabs change content below.
Lori Twining writes both fiction and nonfiction, with her stories winning awards in literary competition and appearing in several anthologies. She's an active member of many writing groups: International Thriller Writers, Crime Writers of Canada, Romance Writers of America, Toronto Romance Writers, Writers' Community of Simcoe County and Ascribe Writers. She's a lover of books, sports and bird watching, and a hater of slithering reptiles and beady-eyed rodents. www.lvtwriter.com; Twitter @Lori_Twining.
Latest posts by Lori Twining (see all)