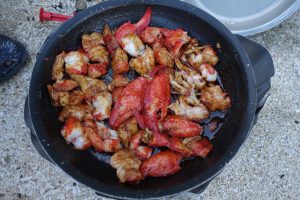 In Ian Hamilton's crime series, Ava Lee is always eating interesting and descriptive food. In the book, The Wild Beasts of Wuhan, Ava Lee orders "sautéed languoustines with crab tortellini in a shellfish bisque as a starter, and pan-fried black bream with truffle mashed potatoes as her main."
Later in the same book, Ava orders without hesitation: foie gras and black sea bass with oyster mushrooms.
What are languoustines?
I had to look it up: it's also called "Norway Lobster", a luxury seafood prized for its sweet meat. They're crazy expensive because of their rarity. Bream is a fish. Ava Lee adores expensive luxury food. It tells the reader about her income and social status. It also makes me hungry.
Being specific about the food your characters are eating can bring richness and depth to your writing. It can help establish the setting, the historical period, and the culture of your characters. But it can do more.
Here is my nine course meal of how food can add flavour and spice to your novel:
1.  Helps establish setting. The type of food we eat as a society has changed over time. You couldn't always get fresh bananas and oranges in the store. Whatever time period your novel is set in, be conscious of the food available and trends of the time. This is particular important for historical fiction, but I think equally important for contemporary fiction. Think of when pomegranate juice became popular, or almond milk, and now cricket flour! If you're writing science fiction / fantasy you may want to have your characters eating something out of this world. Grilled alien anyone?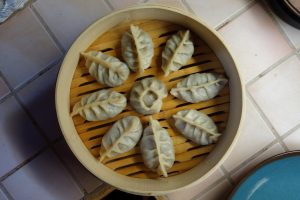 2.  Shows culture. Beyond the obvious, think about food in the wider context of culture. For example, food often plays a role in religion. Does your character observe lent? Maybe she's constantly tempted by sweets while she chases down a serial murder…. This would set the time of year in your book and also tells us so much about your character. Think about food in sub-cultures. Is your character a fitness fanatic and constantly chows on power bars and gulps energy drinks? Or maybe a health conscious character? What is great about setting up someone's food preferences early in a novel, is that it will allow you later in the book for the character to "break faith" with their food preference. For example, a health conscious character might at a stressful moment eat an entire bag of cheezies or a hamburger with apple smoked bacon and grilled mushrooms.
When writing about food, try to be specific.
3.  Food changes with income and social status. If your character is in poverty, they are forced to eat differently than someone who is a CEO of a company. You can set up contrasts between characters to show their income and social status through the food the characters are eating.
4.  Shows character traits. If you're writing about a rebellious Hindu teenager, maybe she refuses to eat the butter chicken curry her mother makes? Is your character an adventurous eater or someone who thinks that salt is the only spice needed in the cupboard? Is the character someone who is happy to eat the same thing every day or has a schedule of meals every week?
5.  Use it symbolically. George Martin in his series, Game of Thrones, has his naïve character, Sansa, adore lemon cakes. He uses her love of lemon cakes to symbolize her desire for things beautiful and expensive. Maybe your character always ordering his steak "blue" as a way to symbolize that character's animalistic trait. In Oliver Twist, the character pleas for more gruel with the famous line: "Please, Sir, I want some more." It tells us more about the Oliver's character than him being hungry; he desires more in life than living in the bleakness of the poor house.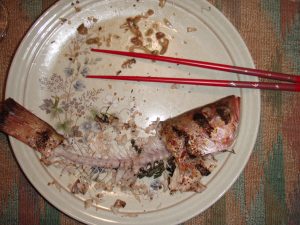 6.  Food can foreshadow plot changes. Such as having an insipid meal before disaster strikes your character. Food can symbolize love and desire – think chocolate! Or food can trigger nostalgic memories, such as eating fried chicken and potato salad at a summer's picnic. Be creative too; think of the iconic moment of the spaghetti meal in The Lady and the Tramp.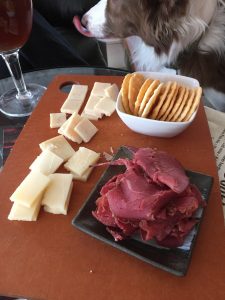 7.  Food can bring your characters together. People come together for dinner, brunch, afternoon tea. Use meals to bring characters into a scene together, especially characters who might otherwise avoid each other.
8.  Use food to set up contrasts. For example, in Twilight, the main character is a vegetarian and attracted to a vampire. It's a cute twist. Add to this, the vampire describes himself as the vampire equivalent of a "vegetarian" by only drinking animal blood. It's a nice detail in the book and sets up a contrast and a similarity between the two characters.
9. Use food to signal time passing in a novel. A character who is constantly on the hunt for a killer has to stop every so often for a meal otherwise they would drop dead from exhaustion, ending your novel prematurely. I hate it when reading a book and a character never eats or sleeps, making it feel like the longest day ever. Stopping for a quick lunch, signals to reader the time of day without telling us. It also keeps the novel grounded in time and reality.
How do you see food adding texture and colour to your writing? Can you think of other ways of using food in your novel? What is on the menu for tonight in your novel?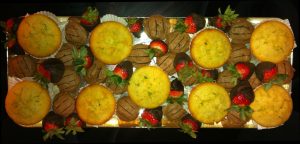 A note about the photos in this blog. Yes, these are all meals I helped to consume! From the top, Lobster from Maine; Tibetan "Momos" (a steamed stuffed dumpling, one of my specialities); grilled fish from the Bahamas; our homemade pastrami with aged cheddar cheese; and at the bottom, lime-coconut cakes on the tray with chocolate dipped strawberries and cookies.
The following two tabs change content below.
Seana Moorhead
Seana Moorhead is an aspiring writer and is working on completing her first fantasy novel. She moved to Grey County in 2002, having a passion for outdoor adventures, including kayaking and wilderness camping. Suffering from a book addiction, she will read almost anything that will grab her attention, lead her into another world or teach her something new. Seana lives in a bush lot near Owen Sound, Ontario with her partner and three dogs.
Latest posts by Seana Moorhead (see all)