"Two roads diverged in a wood, and I— I took the one less traveled by, And that has made all the difference." — Robert Frost
Are you a genre writer? Or a poet? Or a novelist? Or do you just like to read in these areas? No matter what you love, it's always good to try something new, something different. We all have something to learn from each other. Check out what literary events are happening in your area. Go to them, support them, enjoy them. At the very least, you might make some new friends. Go see authors you haven't read before, join a book club and read something different.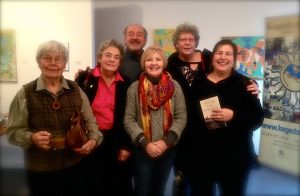 I'll give you some examples from my own experience. Earlier this summer, a friend had an extra ticket to a romance writer's event in Collingwood an hour away. We carpooled and met with others for dinner first before listening to four romance writers read and talk about their writing. Now, I don't write romance novels, but I can't imagine myself writing a novel without romance in it. There's always something to learn and I had a great time and made new friends.
Helen Humphreys just visited the Owen Sound library. I'd never read anything she'd written, but a writer friend recommended her. Listening to her read and speak, I quickly realized I'd love to read this woman's work. I left with three books and a smile on my face.
Last year, Camilla Gibb came to the Coffin Ridge Winery. I didn't know her work, but had heard her on the CBC. She was also offering a workshop. Interest piqued, I went to the library and took a book of hers out. I loved it and had a great weekend at the winery. (Readings there are wonderful. Wine and cheese and more friends!) I had another new author to add to my list. I also left with at least one book.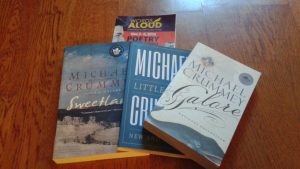 My best turn-around story is an older one. When I first moved to Grey County, I didn't know anyone. Once my kids were old enough, I went in search of a writer's group. We hadn't been meeting long before one of the members said I should check out this poetry festival she was involved in. I didn't really like poetry, but she encouraged me to go anyway.
As a mom of young children, a night out is few and far between. I went to the first main stage event on the Friday night. I was blown away. I went on the Saturday night and then the Sunday afternoon as well. I'd been transformed.
The next year, I volunteered to help. Again at my friend's suggestion. Thus began a long association with the Words Aloud festival. And of course I made new friends! Both in local writers and visiting poets. Words Aloud is a spoken word and storytelling festival. Anything can happen. And it does. It takes place the first weekend in November at the Durham Art Gallery. The perfect venue for a weekend of exploration.
It's hard to convey what happens on that weekend, but I've enjoyed a multitude of voices. Some of my favourites have been: Shane Koyzcan, who went on to perform at the Olympics. His delivery could make you roar with laughter and then cry, all in the same poem. C.R. Avery, a beat-box poet who's always bending the lines, Robert Priest, with humour and a guitar, Corin Raymond, the Bookworm. The Indigeneous voices we've heard over the years: Gregory Scofield, Katherena Vermette, Drew Hayden Taylor, Kateri Akiwenzi-Damm and the list goes on.
And we can't forget the lyricial poets, the dub poets and the storytellers. One of my favourites will always be Lorna Crozier. If you haven't read her work, seek her out. Sheniz Janmohamed, John Giorno, Ivan Coyote, Stephen Heighton, James Gordon, Hillary Peach, Michael Crummy, Clifton Joseph; all such memorable performances. And there's more, but I'm running out of words.
By the end of the Words Aloud festival, I feel as if I've travelled the world, heard voices rich in the places they've travelled from.
And the poets love us, too. The audience is hungry and appreciative!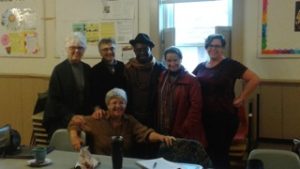 This is Words Aloud's 14th year and I haven't missed a main-stage performance since I first walked through the doors of the second Words Aloud. Somewhere along the way, my friends convinced me to take the workshops. But I'm not a poet, I countered. The workshops aren't just for poets, they're for everyone. And they were right. I've learned to hone my words over the years and even written a poem or two. I even "performed" part of my novel while CR Avery and his band played in the background.
If you live further afield, see what's happening in your area. No matter what the event, you will always end up coming away with a love of words and new friends in the writing community.
And if you live in Grey County, come check out the Words Aloud festival this weekend. Even if you don't like poetry.
The following two tabs change content below.
Diane Ferguson
Diane is an accountant by day, an amateur astronomer by night, and a writer by morning. Having just completed her first novel, she'€™s come to embody the maxim, writing IS editing. Diane and her husband are raising two girls in the wilds of Grey County and are home to 2 dogs and 5 cats, at last count. She'€™s also been involved with the Words Aloud Spoken Word and Storytelling Festival for the past 10 years. (www.wordsaloud.ca).
Latest posts by Diane Ferguson (see all)