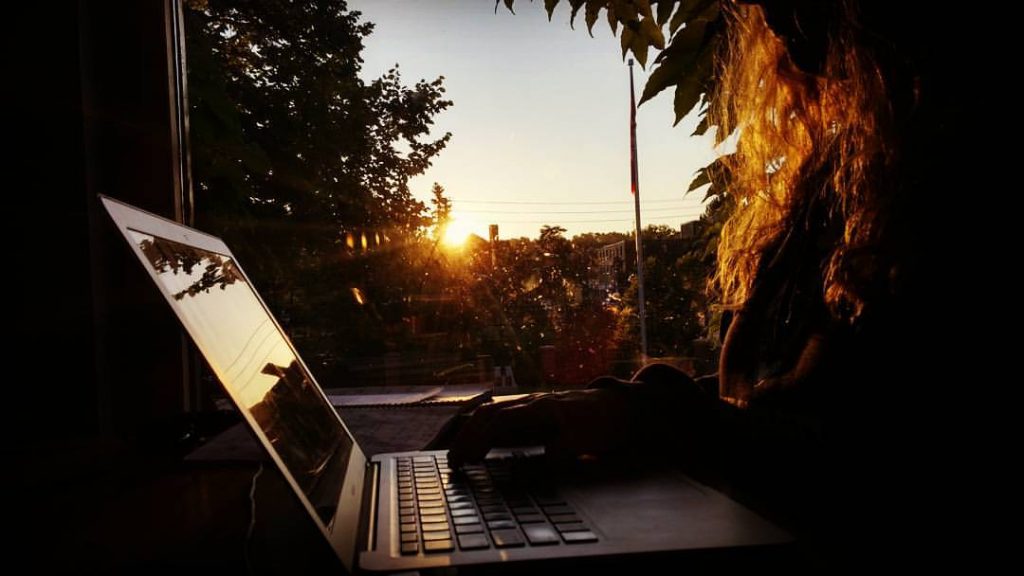 Some people call me a Librophile and others stick with labeling me as a Bibliophile, but no matter how deep my love goes for books, I seriously can't get enough of them. I have this obsessive compulsion to read ALL the books in this world before I die… I'm in panic mode, trying to make this happen. I buy them, borrow them, beg for them, and at the moment, I hesitantly draw the line at stealing them (although, I'd have a whole lot more time to read if I was sitting in a jail cell all day. This is quite thought provoking and I should investigate this).
Thirty years ago, when I was choosing my career path, I should've chosen to become a LIBRARIAN. That would have solved my fascination for wanting to run my hands along the spine of each book I come across, to sniff the pages, to read ALL the words… of course, I'm not sure if I would've been able to concentrate on doing any actual library work. I just would've wanted to READ. All day. Every day. I would've been fired the first day on the job. Yes, I admit I have a small problem. There should be a support group for people like me.
However, over the long Labour Day weekend in September, I managed to get locked into Booklover Heaven from Friday night at 6pm to Monday night at 6pm. 72 hours of being surrounded by my favourite thing in the World… books!
I EXPERIENCED THREE WHOLE DAYS LOCKED INSIDE A LIBRARY!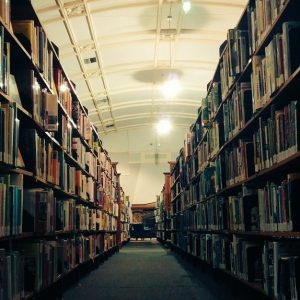 If you are reading this and you feel the slightest bit of jealousy over reading that one sentence, then you should probably consider being locked in a library with me next year. We do it for charity at the Owen Sound and North Grey Union Public Library. This year, seven authors participated in the Grey Bruce Novel Writing Marathon and we raised $10,000 for the Adult Learning Centre to help people across Grey and Bruce Counties with general upgrading skills of Math, writing, reading, computer basics and learning English as a second language. I personally raised $1525 towards the total fundraising amount and I want to thank all my amazing friends and family for making that happen. You people ROCK! Thanks for being so generous. Not only did the seven of us raise money, but we made new writing buddy friends who live close by. That's always a nice bonus.
On Friday night, when I entered the library, I picked my secluded writing spot (yes, when you are an author, you are supposed to write something between the constant procession of reading books) in the back corner of the 102-year-old Carnegie wing, against two giant windows (this was the best spot to catch glimpses of the early morning sunrise and the bustling farmers' market). You could feel the history and the significance oozing from the walls in that room. You could see the extremely tall vaulted ceilings arched above my head. And let's not forget that almost the entire exterior wall is lined with rows and rows of books, with the center of the room having several aisles of books towering on five shelves high.
This local event is what I call a "sweet inspiration" for a writer. You might think I was slightly intimidated with Ernest Hemingway staring at me from the 'H' shelf, making me feel a little bit inferior at times. This is true, but something just clicks within your brain and your fingers start working, moving across that keyboard with ease, and you start creating something that maybe someday, someone else will want to read. Your book might even be on one of these shelves staring out at another bunch of eager writers intimidating them, as they write their books for future generations. Sure, it's a long shot, but why not try to make this happen?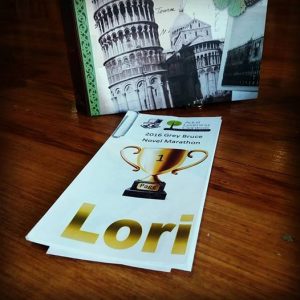 So, not only as a reader, but as a writer this three-day library sleepover event is a dream come true and was an amazing experience for me. I admit I had a few difficult hours of agony (between 2am and 7am early Saturday morning) while writing a new Young Adult Thriller, because I should've spent some time outlining the story before I arrived at the event (I went in with NOTHING. No thoughts about what I was going to write. No storyline. No characters. Yep, I was starting fresh. Dumb idea. Don't do this.). You know, now that I think about it, I'm not sure I can call it a sleepover in the library if I didn't actually sleep? Anyway, after writing 20 pages of a Thriller novel, that was proving to be difficult to keep all my law-breaking citizens in some kind of order that wouldn't bore people to death, I switched to a Contemporary Romance and wrote 84 pages of fun, humour and love. For the record, I did slip home on Saturday and Sunday evening for a four to five hour nap, just to spend some time with my hubby. Yes, it still counts as seeing each other over the long weekend, even though you only see each other with your eyes completely closed and you are both unconscious. Grin.
I can't complain at all, well, except for the fact that being surrounded by books should be comforting, BUT I was continuously trying to restrain myself from reaching out and pulling books off the shelf to read about other wonderful authors and their amazing fictitious stories. I should've been tied down to my chair, so I didn't wander and get distracted. This was KILLING me. Also, I will admit to spending a few minutes every hour, wandering around taking library selfies too, so that might have affected my overall writing output, just a little bit.
I think the former mayor of Owen Sound, Deb Haswell said it best back in 2014, when she called the Owen Sound Carnegie Library one of the "jewels of the city". And, now I can tell all my grandchildren (I don't have any grandchildren right now, and there is absolutely no rush with this) that I had a three-night sleepover in the "Secret Jewel of the City". Wait a minute, that sounds like the perfect title for a book. I think I just sparked another idea… back to writing.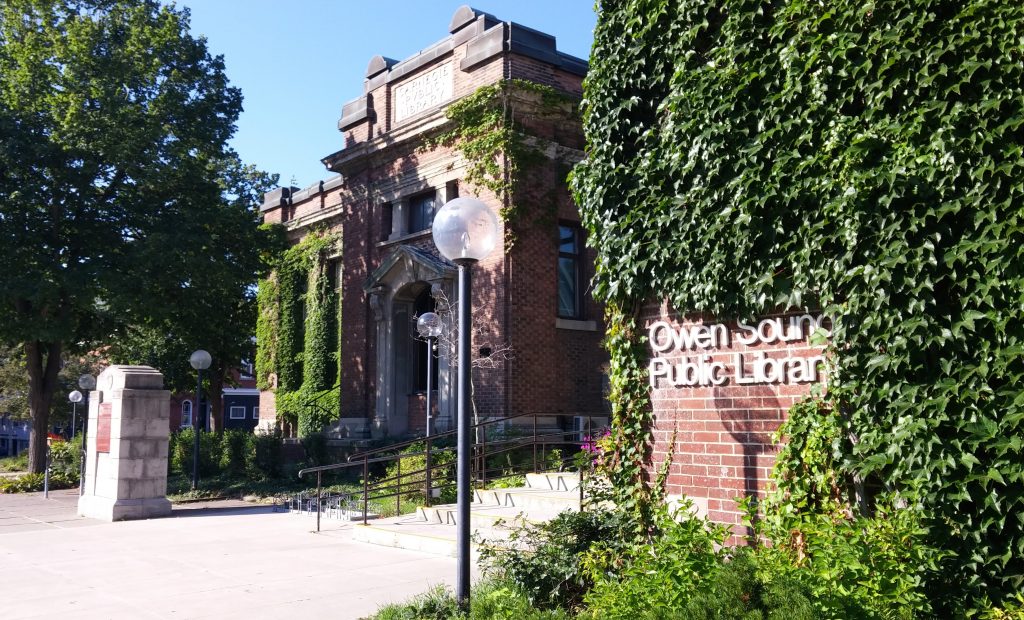 The following two tabs change content below.
Lori Twining writes both fiction and nonfiction, with her stories winning awards in literary competition and appearing in several anthologies. She's an active member of many writing groups: International Thriller Writers, Crime Writers of Canada, Romance Writers of America, Toronto Romance Writers, Writers' Community of Simcoe County and Ascribe Writers. She's a lover of books, sports and bird watching, and a hater of slithering reptiles and beady-eyed rodents. www.lvtwriter.com; Twitter @Lori_Twining.
Latest posts by Lori Twining (see all)